A quarter of adults between the ages of 65 and 74 have hearing loss in the U.S. Hearing loss increases to 50% from the age of 75 on. Almost 7% of adults 65 or older have vision loss, and close to 9% of adults 70 or older have lost both hearing and vision.
Your dad's not alone if he's lost both his hearing and vision. Whether it's partial loss or full, your dad has to have support throughout the day and night. These five items and services are essential if your dad is going to remain independent.
Strobe Devices
Your dad won't be able to hear smoke, fire, and carbon monoxide detectors. He's not going to hear the doorbell or phone. Invest in devices that have bright strobe lights to help him see them. It's one way to assist him, but it's not foolproof, so you'll need to back it up, especially at night when he's sleeping.
Occupational Therapy
Ask your dad's doctor about having him work with an occupational therapist. It's useful in teaching him new ways to move around his home and handle daily routines like showers, meal preparation, and personal care. All of this can pose new challenges.
Taking a walk outside is different when you can't hear traffic or dogs that are running up to you. Your dad's occupational therapist will teach him ways to do the things he enjoys without risking his safety.
Transportation Services
Your dad cannot hear or see, so he can't drive. This shouldn't mean he has to stop going out. He can have caregivers drive him to his medical appointments, help him do the shopping, and take him to local attractions.
Hearing Aids
Estimates are that 28.8 million Americans would benefit from having hearing aids. Yet, only 30% of adults aged 70 or older have and use them. Take your dad for a professional hearing aid examination and see what the specialists say. Because hearing aids are now available in over-the-counter sales, they're becoming more affordable than they have been. They might help your dad hear more than he currently does.
24-Hour Home Care
While your dad is acclimating to his hearing and vision loss, he shouldn't be alone. In the middle of the night, if he needs something, he's not going to be confident. He could fall trying to get from his bed to the bathroom. It takes time to get used to a layout.
His hearing loss is going to make it challenging to hear someone at the door, a ringing phone, or a smoke/fire/carbon monoxide detector. Someone should be in the house with your dad to alert him to these alerts that he's unable to hear and 24-hour home care does just that.
Have caregivers with him to guide him down the hallway or across the room to the bathroom. His caregiver helps him avoid a fall that could cause serious injury. As he adjusts to his vision loss, he may not need his caregiver all night, and you can adjust that as needed.
If you or an aging loved-one is considering

24-Hour Home Care
in

Apple Valley

, MN please contact the caring staff at Great Oak Senior Care, Inc. today. (952) 767-4925

Source 1 / Source 2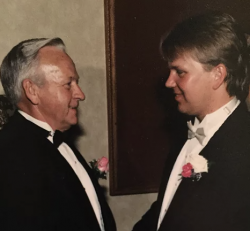 Latest posts by Keith Dahlen
(see all)