Bloomington – Great Oak Senior Care announced today that it received the distinguished 2023 Best of Home Care –Leader in Experience Award from Home Care Pulse, the leading firm in experience management for home care. The Leader in Experience Award is the highest recognition awarded by HCP and is given to select home care businesses that consistently rank among the very highest in 10 or more quality metrics. As a Leader in Experience, Great Oak Senior Care is now recognized among the top 10% of home care providers participating in the nationwide HCP Experience Management Program.
This accomplishment demonstrates Great Oak Senior Care's long-term dedication to excellent care and quality improvement. To qualify for this award, 10% of Great Oak Senior Care's clients and caregivers were interviewed each month by HCP. Over a 12-month period, Great Oak Senior Care received high client and caregiver satisfaction ratings in areas such as caregiver training, compassion of caregivers, communication, scheduling, client/caregiver compatibility, and more. Using feedback from clients and employees, as well as quality benchmarks from HCP, the Great Oak Senior Care management team set goals to reach the highest level of Experience possible.
"I am very proud of our team of caregivers because without them the Best of Home Care –Leader in Experience Award would not be possible. They are the most caring and compassionate individuals, and this award demonstrates their commitment and dedication to providing excellent in-home care," says Keith Dahlen – Owner.
The Best of Home Care – Leader in Experience Award highlights the top-performing home care businesses in the nation. HCP believes that by honoring these providers, families looking for in-home care for a loved one will be able to recognize and choose a trusted home care provider.
"At HCP, our mission is to help home care businesses create an experience that goes beyond client and caregiver expectations," says Todd Austin, President of HCP. "When we see agencies like Great Oak Senior Care that have so effectively provided outstanding care and employment experiences, we know we're on the right track. Great Oak Senior Care has worked extremely hard to prioritize high-quality care and employment, and their work hasn't gone unnoticed. This award allows them to show proof of quality to potential clients and caregivers."
To find out more about Great Oak Senior Care's commitment to experience, please visit www.GreatOakSeniorCare.com or call 952-767-4925.
About Great Oak Senior Care
Company was founded in 2015 with a mission to provide seniors first-class non-medical home care in a respectful, loving and caring manner which preserves and enhances the seniors' independent living and dignity. By doing this, we are helping seniors safely and comfortably "age in place" while providing priceless peace of mind for their families.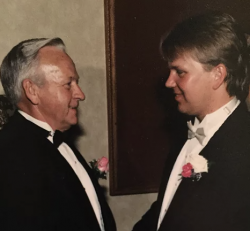 Latest posts by Keith Dahlen
(see all)