When you have a senior parent that requires Alzheimer's care, there are a lot of milestones that are hard to adjust to. But one of the hardest is when your parent no longer recognizes you. Even if it's just a moment where they don't know who you are, it can be jarring. And those moments will become more frequent as the disease progresses. Even though it's difficult to accept that your senior parent's Alzheimer's is progressing, doing these things may help you and your senior parent when they don't recognize you.
Don't Get Upset
Seniors with Alzheimer's often will look to the verbal and visual cues of the people around them for clues on how they are supposed to behave when they don't know where they are or how they should be acting. If you get upset when your senior parent doesn't know your name or recognize you, they will think they did something wrong and they may get worried, anxious, or upset because you are upset. Take a deep breath and just keep going. If your senior loved one has Alzheimer's care, check with the caregiver to see how often they're experiencing this.
Remind Them
Keep your tone bright and breezy and remind them who you are. But your tone is very important. Don't be sad or upset. If your tone is light and cheery and you remind them that you are their son or daughter they won't think that they have done something wrong. It's ok to remind them in a gentle way of who you are. Don't try to guilt them or say something like, "Don't you remember? I'm your daughter or son." If you're not sure what to say you can check with the Alzheimer's care provider. They will have lots of tips for you on how to handle a situation like this.
Reassure Them That It's Okay
Once you remind them who you are, make sure you offer reassurance that they didn't do anything wrong and you're not upset or mad. Your senior parent will often look to you for reassurance when they are confused or not really sure what they are supposed to be doing or saying. When you offer reassurance it can help them stay calm and happy. You can reassure them with words or by touching their hands or giving them a hug. Any gesture that provides calm reassurance is good.
Introduce Yourself When You Visit
After your senior parent has started not recognizing you when you visit you should begin each visit by greeting them and introducing yourself. That will make it less awkward and your senior loved one will be less stressed and anxious because they won't be put on the spot trying to remember who you are when they don't remember. Even though it can feel awkward and emotionally devastating to have to introduce yourself to your parent every time you visit it will make things easier for them.
If you or an aging loved-one is considering

Alzheimer's Care in Burnsville

, MN please contact the caring staff at Great Oak Senior Care, Inc. today. (952) 767-4925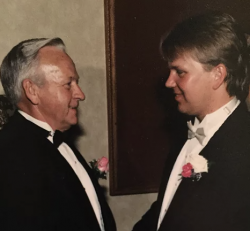 Latest posts by Keith Dahlen
(see all)